The Last Supper,
by Natalia Nesterova, 1990
(painted on two canvases)

N

atalia Mikhailovna

Nesterova

(b.Moscow 1944) is one of Russia's most respected painters and has received national

acclaim

and government prizes for her strong figures whose faces are often grotesquely similar.


I entered one of her paintings,

Ordering Lunch

, at the opening of my blog posting on

Artists in Restaurants



Here, note the painting's background - a landscape of sorts, decidedly biblical and star, suggestive of the tragedy to come.

Nesterova never shys away from the harshness of Russia life. Many of Nesterova's paintings are about ordinary Russian life: eating, sharing food, and preparing food. And many of her canvases have religious themes, as the one above. See also
Preparing the Fish
(1993),
Scenes from the Life of Jesus (1992), O
rdering Lunch

(See blog posting on Restaurants) and

Morning Coffee

(2008)
Salvador Dali,
The Sacrament of the Last Supper,
1955
Dali stated publicly that this painting is "an arithmetic and philosophical cosmogony based on the paranoiac sublimity of the number twelve .... the pentagon contains microcosmic man: Christ."
In interviews with Mike Wallace (1958), Dali confessed to being only marginally religious but was growing more

spiritual

as he grew older. Standing the way of complete faith, he said, was his intellectual life and experiences.
Marwan George Khoury, 2012
Joseph Delaney (b. Knoxville TN, 1904-191)

The Last Supper

, circa 1950
.

Delaney lived and worked New York City and later became artist-in-residence at the University of Tennessee Department of Art. Here, his figures at the table represent many of America's ethnic groups, harmoniously gathered for a meal together.
Joseph Delaney, 1904-1991
Cecilia A. Shapiro,
Last Supper,
Circa 1999

[photo]
.
Ms Shapiro has documented many death row last suppers, noting the often unusual mixes of foods - things not usually served together. One prisoner requested a simple cup of coffee. Another ordered tacos, hamburgers, milk shakes, corn bread, jalapeno peppers -- more than a normal person would consume. So, when is one's execution normal?
FOODART LIT
ARTLITFOOD
LITFOODART



This blog posting [preceding Passover and Easter] is a brief version of chapter 5 in

A Food Lover's Guide to the A

rts
.
A valuable link to a survey of many last supper paintings is found at
www.textweek.com/art/last_supper.htm
This chapter is devoted to exploring the wide variety of interpretations, both religious and secular, of the biblical Passover Seder which Christians refer to as

The Last

Supper, and was most popularly depicted by Leonardo daVinci in 1495-1497.
Leonardo's painting has achieved iconic status, in that its popular title (in contrast to "The Lord's Supper," "the Mystical Supper," the first Eucharist, agape, and

il

Cenacola

) and food connotation lends itself to a variety of circumstances.
For example, the traditional ritual of final meals requested by condemned prisoners has become a widely-publicized and popular culture genre, however
morbid and of questionable taste.
Online, UCDAVIS Magazine carried a comprehensive article on this phenomenon by Steve Jeung in its Winter 2009 issue, vol 6, no 2: "I Did Not Get My Spaghetti-O's: Death Row Consumption in the Poplar Media."
Finally, a blog,

www.deadmaneating.blogspot.com

is available for those interested in exactly what menus are ordered, and two authors,Ty Treadwell and Michelle Vernon have put together a successful book,
Famous Final Meals from Death Row
(2001)
In an altogether more positive vein, on the other hand, in a section below we meet the work of art professor Julie Green and her "Last Suppers" ceramics project.
Below: Green Julie,

Ceramic Plate, Kentucky , BLT,

1999
,
and the
Last Suppers Project:
Above, part of an art exhibition in "confrontational ceramics" by Oregon State University art professor, Julie Green, entitled, "Last Suppers." Over the last decade, she has created 235 China plates to commemorate actual last suppers of prisoners on death row in many prisons. The project began in Norman, Oklahoma. She also cited the articles written about executions in local papers and carefully preserved the prisoners' "menus," or last requests.
Film and TV:
The drama of a prisoner's last meal was sensitively directed in the 1999 film, "The Green Mile."
The film actually uses several meals and snacks to show camaraderie among the prison guards
(centered around the character created by Tom Hanks), but the most affecting is the request of condemned man, John Coffey (played by Michael Clarke Duncan). Asked what he would like to have served on his final evening, he replies in his distinctive soft and liquid tones:
"Some meatloaf'd be nice. Mashed 'tatas 'n
some fried okra. Ah's not picky."




Meanwhile, in Sweden

, two entrepreneurial artists, Mats Bigert and Lars Bergstrom have followed Green's efforts by creating a number of art works on the last supper theme. A museum installation and various projects for Swedish Television. One such project is called "the Big Feed," which is a term for a prisoner's last meal. They also have plans to produce a cookbook of final meals. A bit ghoulish.



Of course, there is the 1995 film, "The Last Supper"

(directed by Stacy Title) about five liberal graduate students in Iowa who invite to dinner people whom they know or suspect of being bigots, right-wingers, fascists or worse. The guests toss off their views, sip the poison wine, and end up buried in the backyard. A touch of the 1944 comedy film

, Arsenic and Old Lace

, from Frank Capra.

Last Suppers in Academe and the Fine Arts

Renderings of the last supper, over the centuries, have drawn questions and criticism from all points. One area of concern has to do with perspective or convergence of the lines in the paintings. Another has to do with proportions in the bodies of the disciples.

But since we are talking about food, it should be noted that one of the many controversies about last supper paintings lies in the bread on the table. Since the Exodus, Jews have eaten only unleavened bread at Passover [

matzoh

], not the rounded Italian or European loaves shown in most renderings of

The Last Supper

. Is this ethnocentrism in the artists, sheer ignorance or artistic license?


British Archaeological Research:
This post-Norman medieval wall painting, dates from 1150-1200.
The image is significant in the placement of Judas He is shown in his traditional position in early paintings, on the opposite side of the table from everyone else. He is in the act of taking a fish from the plate in fr
ont of Jesus.This may be intended to mean that Judas was a thief or is greedy. Or, the appropriation of the fish maybe symbolic of his betrayal. Other examples of this composition were found in the English church at Belchamp Walter, in Essex
.

Ann Marshall, associate lecturer at Open University, UK, found this wall painting in Ickleton, Cambridgshire, County of Suffolk on England's northeast coast [personal correspondence]. Other ancient sites can be viewed at

www.textweek.com/art/last_supper.htm
Zapata, Marcos

(b, Peru) Last Supper with Guinea Pig c 1740s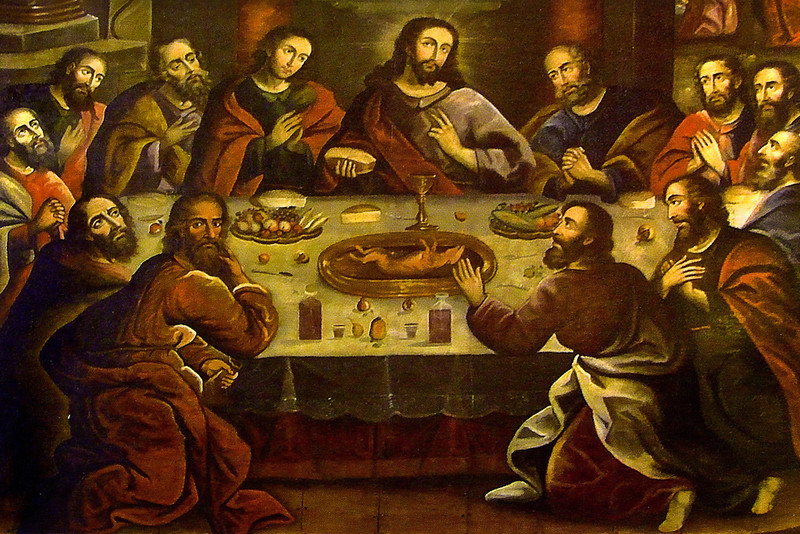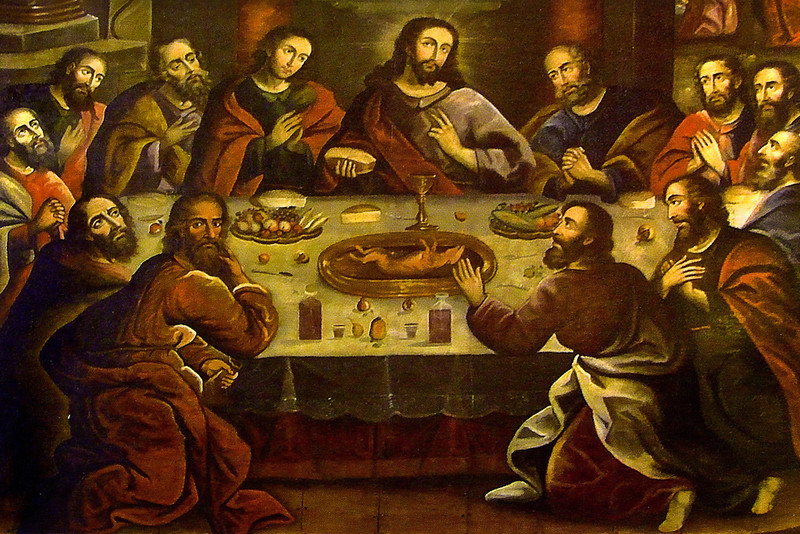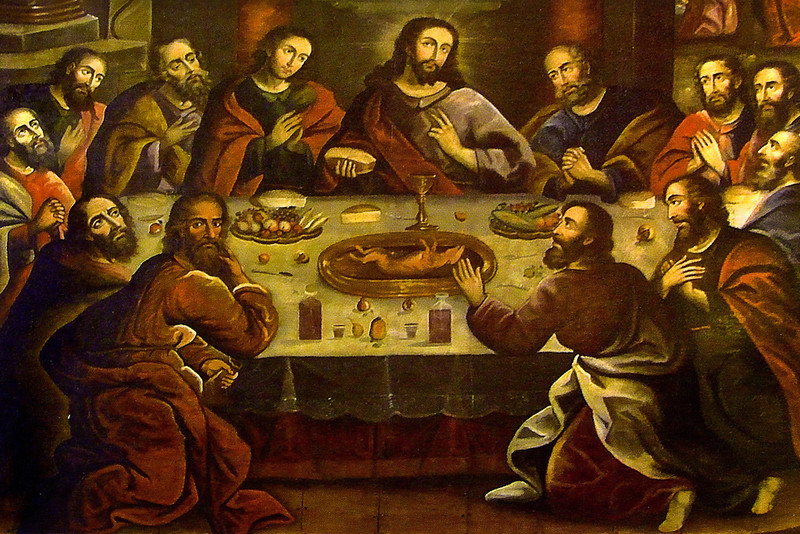 Domenico Ghirlandaio

(1449-1494) The Last Supper

(fresco), 1480.

This composition is
interesting because it seems that we are looking up at the scene and because Jesus sits to the left, not the center. Leonardo was familiar with this painting before he began his own version, some ten years later.
Bernaert van Orley
(1488-1592)
Last Supper
[tapestry], 1520-1530

.
One of four tapestries from the Passion of Christ and called the
Alba Passion.
Very Three-Dimensional:
Bob Law (b. Brentford, Middlesex,UK 1934-2004)
Last Supper
(maquette or scale model in bronze)
.
The empty places create a tension between what we have heard/learned and what we see.

Law is called the founding father of British minimalism. He worked successfully in many mediums but this piece shows his roots in architectural design.
Marisol Escobar (b. 1930,France) S

elf-Portrait Looking at the Last Supper,

1882-84

. [Sculptural assemblage. Painted and drawn wood; Jesus chiseled in NYC brownstone]
Last Suppers and Other Contexts:
Marsden Hartley (b. Lewiston, Maine, 1877-1943)

The Fishermen's Last Supper,

1938 and 1940-41.


Bold and vivid expressionism, rather like paintings of that time in Germany. He lived on the New England coast most of his life. He was, a mostly closeted homosexual, and fell in love with two sons of a Nova Scotia fishing family. They were both lost at sea and this painting is his remembrance and interpretation of that tragedy. Totally secular, it resembles the Last Suppers in composition and title only.
Adi Ness ( b. 1966, Kiryat Gat, Israel)

Last Supper by Israeli Soldiers,

1999

(Photo, 90 cm x 148 cm).
H
is parents are Kurds from Iran who emigrated to Israel.
The idea for this photograph
occurred
just after his
military
service. Though it is perfectly natural in military groups to find men in all sorts of situations, Ness has been criticized for over-use of young men in intimate positions suggesting homeoeroticism.

Renee Cox

(

b. Colgate, Jamaica 1960)

Yo Mama's Last Supper,

1996
One of the most controversial African American performance artists whose medium is racial issues, feminism and religious imagery.
Her response to [then] Mayor Giuliani's vicious condemnation, was "I have a right to re-interpret the Last Supper as Lenonardo da Vinci created the Last Supper with people who looked like him. The hoopla and the fury [about this photograph] are because I'm a black female. It's about me having nothing to hide."

Damien Hirst (b.1965, UK)

Liver, Bacon and Onions

;
Steak and Kidney Pie
(Both from his
Last Supper Series,
1999)
.
Hirst is best known for his art installations of sharks and cows suspended in formaldehyde and his more recent diamond-encrusted skull, entitled, "For the Love of God," 2006 (The asking price was $100 million).

Here he hurls at us the ultimate British joke about their own peculiar food preferences: "Give a bloke a chance and he'll order steak and kidney pie every time! Or, bangers and mash!
"
And here they are in easy-to-take tablet form!

Keep out of reach of children!
And a very happy Spring Equinox (March 20) to everyone!