Historic design:
The 1928 iconic
Frankfurt Kitchen
, designed by Margarete (Grete) Schütte-Lihotzky, was mass-produced for public housing estates in the aftermath of World War I. An unusually complete example, recently acquired, is displayed in exhibition for the first time.
Kitchen Sink Dramas offers psychologically nuanced views of lived experience in this hub of domestic activity—its nightmares and delights—seen in works of art made since the 1960s.
kitchens in film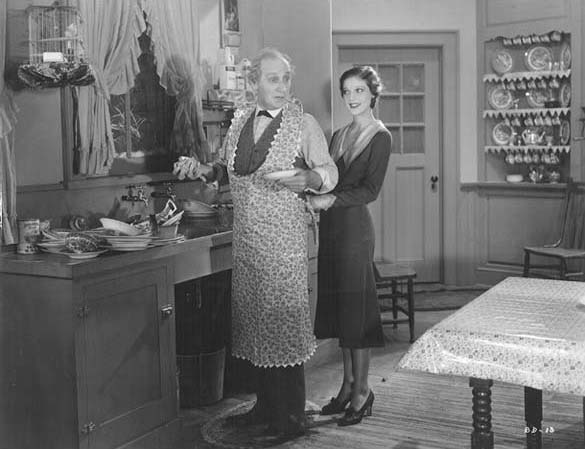 "To Young to Marry," 1931
Big Night," 1995

A Food Lover's Guide to the Arts
August-September 2010

The Artistic Evolution of Kitchens: A Special Space for People and Food:

Joaquim Antonisz Wtewael, (b. Netherlands, 1566-1638) Kitchen Maid, 1629-25.
Wtewael is part of that strong 16th century tradition of market and kitchen scenes, which we find in the works of Beuckelaer and Pieter Arnesen [See below].



While early paintings from this and previous periods depicted biblical events and persons, the later canvases relegated the religious aspects of this painting to the far background, thereby delivering a secular work, more realistic and life-centered.




Jan Steen (1625-1679)
Fat Kitchen
165
0
Jean Brusselmans (b.Flemish, 1854-1953),

Woman in Kitchen

, 1935. This Belgian painter is an example of both realism and Impressionism, emphasizing color, often in harmonious geometric forms. In this era, the kitchen is typical of Modernism, more prosaic, less a showcase than an integral part of home life.


Below: In similar style and for contrast, a Brusselmanns landscape from the 1930s:
Jonathan Green (b. 1955, Gardens Corner, SC), a Carolina painter, turned to people in a working kitchen in his own signature style, which attempts to document, recall and interpret rural Southern life.
Jonathan Green,

Red Tomatoes,

1992

Kitchen design in the 20th century and especially after World War II grew into a complex and lucrative field, giving the domestic food preparation space an icon and a prime example of Thorstein Veblen's "conspicuous consumption."
MoMA, New York City
January 2011
MuseumExhibit: "Counter Space: Design and the Modern Kitchen
"
[Reviewed in the NYTimes, February 4, 2011, C22]
Counter Space
explores the twentieth-century transformation of the kitchen and highlights MoMA's recent acquisition of an unusually complete example of the iconic "Frankfurt Kitchen," designed in 1926–27 by the architect Grete Schütte-Lihotzky.
In the aftermath of World War I, thousands of these kitchens were manufactured for public-housing estates being built around the city of Frankfurt-am-Main in Germany. Schütte-Lihotzky's compact and ergonomic design, with its integrated approach to storage, appliances, and work surfaces, reflected a commitment to transforming the lives of ordinary people on an ambitious scale. Previously hidden from view in a basement or annex, the kitchen became a bridgehead of modern thinking in the domestic sphere—a testing ground for new materials, technologies, and power sources, and a spring board for the rational reorganization of space and domestic labor within the home. Since the innovations of Schütte-Lihotzky and her contemporaries in the 1920s, kitchens have continued to articulate, and at times actively challenge, our relationship to the food we eat, popular attitudes toward the domestic role of women, family life, consumerism, and even political ideology in the case of the celebrated 1959 "Kitchen Debate" that took place between Richard Nixon and Nikita Khrushchev in Moscow at the height of the Cold War.
Featured alongside the Frankfurt Kitchen is a 1968 mobile fold-out unit manufactured by the Italian company Snaidero. These two complete kitchens are complemented by a wide variety of design objects, architectural plans, posters, archival photographs, and selected artworks, all drawn from MoMA's collection.
A contemporary kitchen of the 21st century:


Paul McCarthy (b.Salt Lake City, UTAH 1945)

Kitchen Set No 1 and No 2,

2003
McCarthy takes aim at cherished American myths and icons, re-arranges or displaces them, sometimes with people and sometimes without.



This haphazard arrangement of kitchen facilities, cobbled together as if to vaguely resemble kitchen parts but not a whole contemporary, kitchen. The kitchen "island" is long a part of the contemporary kitchen.
The Truly Avant-Garde Performance of Rirkrit Tiravanija
Rirkrit Tiravanija (born Thailand 1961) works in NYC.
In 2007, Thai performance/installation artist Rirkrit Tiravanija appropriated and revised an earlier, very revolutionary installation piece,

Restaurant

by Matta-Clark (1970). Clark opened an urban space in which artists cooperatively bought, prepared, and ate food at a time when artists struggled to answer the question, What is art?

In this twenty-first century re-birth, Tiravanija created his own menu of now-popular Southeast Asian foods, thus leaping from one stage of visual art development to another. He arranged to borrow gallery space, made a trip to a supermarket, obtained various cooking devices (rice cookers, electric frying pans, and imported spices and food), and then went on to created an eating place qua art installation, a kitchen where one stops in, eats lunch, sharing food being the aesthetic focus.


American Poetic Images of Kitchens:


The vast amount of poetic material on kitchens appears as kitsch or sentimental blather, but it's a subject that grows sturdy and projects the deep sensual human feelings of humans in a special architectural space.


Robert Creely
(b. Arlington, MS, 1926-2005), "

Kitchen",

1974
Creely was associated with the artists and poets of Black Mountain, NC, in the post- WWII period. Among his friends and colleagues were poets Alan Ginsberg and Robert Duncan, writer Jack Kerouac and painter Jackson Pollock.



Robert Creely, 1972



"The Kitchen," 1974
above: Creely, 2004. Photo by Joel Kuszai


The light in the morning
comes in the front window
leaving a lace-like pattern
on the table and floor.

In the silence now
of this square room
the clock's tick adjacent
seems to mark old time.

Perpetually sweeping
this room, I want it
to be like it was.

Langston Hughes (b. Joplin, MO,1902-1967) "I, too, sing America," (1925)

One can sense here the influence of Walt Whitman's "I Hear America Singing,"
and again in Hughes'
"Let America be America Again" (1935).
He was part of the creative force of the Harlem Renaissance, a social activist, a journalist, and an artist of poetry, fiction, music and drama.

"I, too, sing America"

The poem begins:

I am the darker brother.
They send me to eat in the kitchen
When company comes,
But I laugh,
And eat well,
And grow strong.

"The Sensual World " by Louise [Elisabeth] Gluck (b. 1943,New York City),

American Poetry Review

, Jan/Feb 2001
I call to you across a monstrous river or chasm
to caution you, to prepare you.
Earth will seduce you, slowly, imperceptibly,
subtly, not to say with connivance.
I was not prepared: I stood in my grandmother's kitchen,
holding out my glass. Stewed plums, stewed apricots–
the juice poured off into the glass of ice.
And the water added, patiently, in small increments,
the various cousins discriminating, tasting
with each addition–
aroma of summer fruit, intensity of concentration:
the colored liquid turning gradually lighter, more radiant,
more light passing through it. ...(continued)
And thus we begin to examine the ways in which artists have viewed and interpreted this subject within artistic genres. Continue to Kitchens, Part 2