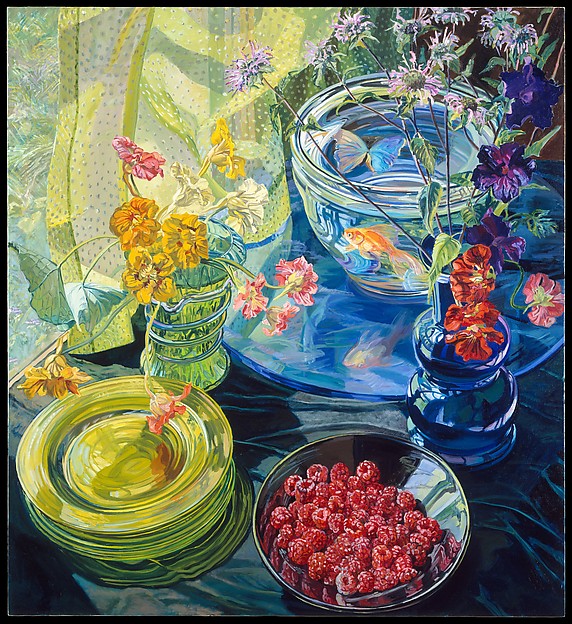 Janet Fish (b. 1938, Boston)
Raspberries and Goldfish,
1981
''The Raspberry Picker,''
Mr. Hochwalder is an Austrian refugee playwright who has since 1938 lived in Switzerland and is very aware of the strength of Nazi feeling among certain, mostly older, elements of his motherland. In ''The Raspberry Picker'' a jewel thief, a man who doesn't mind thievery but abhors violence, ends up in a rural Austrian inn. The time is recent.
Fritz Hochwalder's play at the American Jewish Theater in the 92d Street Y, is that it isn't sure whether it's a comedy with serious overtones or a philosophical drama with comic overtones.
The former comrades in Nazism emerge as self-seeking buffoons while the thief, played with laconic charm by Joe Ponazecki, tries to mulct them in a settlement on the gold. The townsmen are heel-clickers, full of nostalgia for the golden past of Hitler. Mr. Hochwalder, in serious vein, presents them as the people who are running things here, the bourgeois, solid, respectable element. He makes his point but then washes it out in ponderous farce.
Raspberry Heaven

(

2003

)

Dir by David Oas
A Film Raspberry Magic
It pains sometimes to use adjectives such as cute, charming, delightful. But these are entirely appropriate for the latest Cinequest screener I watched called Raspberry Magic. Of a strong group of films so far, it may be the best yet.
The story is centered around a book smart, eleven-year-old daughter who is an aspiring botanist with an interest for growing raspberry plants. So passionate about it, she pursues top prize in the school's science fair, against, ironically, a fellow classmate's robotic project.
Meanwhile, her family is falling apart. Dad is trying to find someone to buy his video game software, and can't seem to stop the kitchen roof from leaking. Mom is looking for a book deal for her cookbook, leaving cooking and cleaning duties to her daughter.
Raspberry Magic
delivers an inspired message about pursuing dreams, recognizing and appreciating who you are, despite the day-to-day curve balls life might pitch at you.
Wells
Prentice was born in Harrisburg, New York in the Adirondack regio
Raspberry Jam
Short/Comedy/Drama ·
10 min
Synopsis: Raspberry Jam is a mystical tale about a man who loses everything on his journey toward hope. And there's a leprechaun, too.
Thelma - A large nurse, (40's – 50s, any ethnicity) she takes care of the terminally immobile Mr. McMurphy. Every morning, she eats his prescribed ration of toast and raspberry jam – until one day decides that she must go on a diet. This decision changes Mr. McMurphy's life forever.

Good thing it wasn't a Mijito

Raspberry Mojito Recipe

What you'll need:

(for about 4 servings)




12 ounces Raspberries

1 bunch Mint Leaves

4 Limes

1 cup White Rum

2 cups Club Soda

4 tsp Powdered Sugar

Lots of Ice





WILD RASPBERRIES (1959)

The book, Wild Raspberries, was a collaboration between Andy Warhol and Suzie Frankfurt. Suzie's husband, Stephen O. Frankfurt was an art director at New York's Young & Rubicam's advertising agency before becoming the president of the company. In addition to collaborating with Suzie on Wild Raspberries, Warhol also worked on Young and Rubicam's advertising campaign for Modess during the same year.1