My oldest and dearest friend, the person who has known me longer than anyone alive and still speaks to me, recently gifted me with a book. She does that sort of thing every time I visit, knowing my passion for art and the things I write in my blog.
The book,
T
HE CAVES OF PERIGORD
by Martin Walker (Simon and Schuster, 2002), is a delightful and informative novel about cave treasures found, lost, stolen and recovered. Plus two love affairs and a few precise descriptions
au table.
Indeed, Walker says that

he likes to write novels featuring wine, women and song

.
Food references appear in every part of the story. Lovers at the Savoy Grill in London and pre-invasion troops slugging booze. But the principal item of interest in this book is the speculations about the UPPER paleolithic Messolithic age (30,000 BCE) food patterns and sources. Early Man butchering reindeer and fishing for perch and raving about

a

giant pike by page 28 , traditional wild boar sausage called sanglier

,

and serious speculation about the diet of early people (pretty much reflecting current scholarship) beginning on page 213
The story takes place in 3 time periods and in a variety of places: London in the present; the Audrix Plateau, Perigord, during the frantic months of 1944 as the Underground teams prepared for the Allied Invasion, only months away; and the Vezere Valley in the South of France, during the late Neolithic period, approximately 15,000 BCE.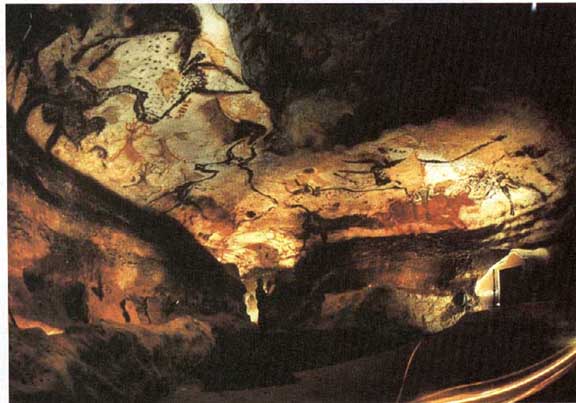 There are hundreds of caves within a 20 km radius of Sarlat--some open, some not. Here's a recommended list of prehistoric sites in the Perigord Noir. The novel combines them into one.
Lascaux II
- Tourists haven't been able to go inside Lascaux since 1963, when algae and calcite began to dim the paintings (Lascaux, it is said, recovered), but they've done a bang-up job of recreating parts of the cave close by. It took 10 years of work to painstakingly recreate not only the paintings but the exact profile of the walls of two galleries.
Cap Blanc
- Like Horses? Well, 13,000 years ago folks carved a three dimensional frieze at the back of a rock shelter featuring almost life-sized horses that seem to jump out of the wall. It's a short, but impressive, visit.
Font de Gaume
- Visitors can see thirty of the most beautiful cave paintings, most from about 12,000 b.c. About a mile south is Les Combarelles, with a profusion of intermingled engravings of many animals, the horse being represented most frequently.
La Roque Saint Christophe
- A stronghold in a limestone cliff, occupied from Cro-Magnon to relatively recent times. It features one of the largest natural terraces in Europe, with a great view of the river. Close by is the Prehistoparc, where your kids can see how life was lived by Cro Magnon. There are good walking trails here.
Rouffignac with tour train one quarter mile underground.