Over the past few years, I have accumulated dozens of books (* autographed copy) that employ (address? slather? are infused? colored by? ) food issues. They range invitingly from magical realism through historical and personal fiction to memoir to down-to-earth ethnographic research.
(Like Water for Chocolate)
Like Water for Chocolate
(
Spanish
:
Como agua para chocolate
) is a popular novel published in 1989 by first-time
Mexican
novelist
Laura Esquivel
.
[1]
Twain, Mark
.
A Tramp Abroad
(1880). Chapter XLIX in particular.
*Hemley, Robin.
All You Can Eat Stories
(1988) collection
Mayle, Peter
(b. Brighton, UK,1939)
A Good Year
or, even better
, Hotel Pastis (1993)
Mayes, Frances
Under the Tuscan Sun (1996)
Tang, Amy
(b. 1952, Oakland, California)
The Joy Luck Club
( 1989) (fiction/memoir)
The Kitchen God's Wife, (1991)
Chan, Lan Samantha.
Hunger 1998 fiction/memoir
Desai, Anita.
Feasting and Fasting (Indian food) 1999 fiction/memoir
Welsch, Roger.
It's Not the End of the Earth But You Can See It From Here:
Tales of the Great Plains (
1990) tall tales, regional; character types, and memoir (with people like "Lunchbox" and his wife,
Cookie"
Rotella, Mark.
Stolen Figs: And Other Adventures in Calabria (2004)
*Karnow, Stanley. Paris in the Fifties (1997) chapter 6, "The Prince of Gastronomes"
Bunin, Ivan Alekseevich. (1870-1953) The Gentleman from San Francisco (1915) and "The Scent of Apples" (in The Elagin Affair and Other Stories (1925/ 2005)
Kurlansky, Mark.
Cod: A Biography of the Fish that Changed the World (2002);
Salt: A World History (2003); and The Big Oyster (2006)
Giono. Jean.. Blue Boy: A Story of a Childhood in Provence (1932/1980). Marcel Pagno filmed "The Baker's Wife" in 1938. Pagnol is the source of the name Chez Panisse.
Gopnik, Adam.
The Table Comes First; Family, France and the Meaning of Food (2011)
Lesley, Craig. Winterkill (1984) Marvelous story Native Americans in Pick ups, Tents and trailers, eating diner pie and pancakes, joining community salmon fishing, and eating "Violet Supreme."
Thurston, Zora Neale.
Mules and Men (1935) An Ethnographic study of the South
Lescroart, John. Rasputin's Revenge (1987) Vodka and greasy sausages but chicken, paprika, and smetana and a lovely bordeau in a restaurant called
Ernest.
Slater, Nigel.
Toast: The Story of a Boy's Hunger (2003) memoir
Anderson, Burton. Treasures of the Italian Table: Italy's Celebrated Foods and the Artisans who Make Them (1994)
Gannascoli, Joseph R.
A Meal To Die For (2006)
Twain, Mark.
A Tramp Abroad (1880). It is strange and baffling that Mark Twain was never awarded the Nobel Prize for literature
And then there is Cheese:
Cheese is fairly popular in literary and visual arts.
Van Dyck, Floris
Still Life with Cheeses,1615-1620
Gino, Mike, Blue Cheese, Philadelphia
Mike Geno, cheese portraitist Philadelphia, PA
Art Guys:
The Cheese Grid, ,1993-96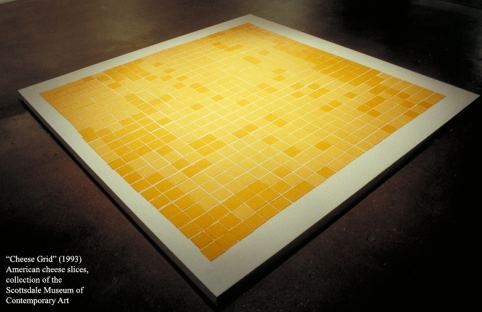 Copyright © 2006 - 2012 Skreened Ltd. unless otherwise attributed, All Rights Reserved.
Magritte, Renée (Belgian, 1898-1967)
o
"This is a Piece of Cheese," 1937
"Ceci n'est pas une pomme ('This is not an apple') unites two of Rene' Magritte's most famous iconographic elements, the apple and the ' Ceci n'est pas...' concept. The title explores a basic problem of semiotics, and this is an exploration of the discrepancy between sign and object.

The biblical apple, it would seem, hides not the genitals but the face, a sign of different values. And the apple, already an icon, becomes "iconic" at a different level. One writer says that Magritte is "representing representation." [*See Food Research file

]
Lynch, Sarah-Kate. (b. 1962, Clyde, New Zealand) Blessed Are the Cheesemakers, 2002 and other novels.
Holman, Sheri (b. 1966, Hanover County, Virginia) The Mammoth Cheese (2003) fiction
Paterniti, Michael The Telling Room. A Tale of Love, Betrayal, Revenge and the World's Greatest Piece of Cheese (. date??) Nonfiction