eatartlit
artliteat
liteatart
LEFT OVER FOOD in FINE ART
The Artist at the Table
HBO Program, 2014
Roman Asaroton
Sosus of Pergamon, famous as the inventor of a kind of mosaic called the asaroton (the "unswept" floor), in which the floor of a room is inlaid with representations of fruits, fishes, and fragments of food that have fallen from the table (Pliny, xxxvi 184; cp. Statius, Silvoe i 3, 36). Mosaic
Theoxeny or theoxenia is a theme in Greek mythology in which human beings demonstrate their virtue or piety by extending hospitality to a humble stranger (xenos), who turns out to be a disguised deity (theos) with the capacity to bestow rewards. This is one of he oldest and principle motifs in folklore and religious narratives.
References
:
Hellenistic Art: From Alexander the Great to Augustus
(2004) by Lucilla Burn; The illustration is taken from
Antike Bildmosaiken
(2003) by Bernard Andreae, as the Vatican gallery is closed to the general public.
The Greek and Roman tradition of tile floors with food images scatt

ered.
"[Sosos] laid at Pergamon what is called the asarotos oikos or 'unswept room,' because on the pavement was represented the debris of a meal, and those things which are normally swept away, as if they had been left there, made of small tessera of many colors." In general, a floor cluttered with food is part of thre religious and social rules hospitality. Such a floor symbolically connotes an abundance of food for the honored guest.
Another unswept floor found in Brighton, England
A modern version (detail) by Vanessa Somer, 2000-2013
5th Century Switzerland
Daniel Spoerri
(born 27 March 1930 in
Galați
, Roman ) is a
Swiss
artist and writer born in
Romania
.
[1]
Spoerri is best known for his "snare-pictures," a type of
assemblage
or object art, in which he captures a group of objects, such as the remains of meals eaten by individuals, including the plates, silverware and glasses, all of which are fixed to the table or board, which is then displayed on a wall. He also is widely acclaimed for his book,
Topographie Anécdotée* du Hasard
(
An Anecdoted Topography of Chance
), a literary analog to his snare-pictures, in which he mapped all the objects located on his table at a particular moment, describing each with his personal recollections evoked by the object. (Wikipdia)
Daniel Spoerri (born 27 March 1930 in
Food Crypt
Below; Eaten by Roy Lichtenstein, 1964
Eaten by Marcel Duchamp /2
Anton Kern (b. Holland leftover durian fruit
Anton Kern

(

German

, –

1747

)
Spoerri - Kitchka's Breakfast
Eaten by Bruce Conner
l
The Lockhorns cartoon, March 6
,
2014
Lara Adriana Banana Peel (installation), 2008
Installation (Banana Peel)', Adriana Lara, 2008.
View larger
.
On display at the
New Museum
in New York City is
Adriana Lara's "Installation (Banana Peel),"
as part of the show "
The Generational: Younger Than Jesus
," the museum's new triennial survey of contemporary art.
F MINUS cartoon Tony Carrillo May 21, 2014
"Would you like me to bury the rest of that, sir?"
Leftover Pancakes as Art Installation
Above: HILARY B. PRICE Rhymes with Orange (cartoon) August 18, 2015
Kent Bellows Dirty Dishes 1984
(Kitchen Counter II
)
Laura Letinsky Leftovers on a Table
Rotting watermelon is found in two other chapters, but it does seem to be leftover
Valerie Hegarty (installation)
Eugene Richards Abandoned Kitchen Leftovers
Marcos Zapata Popular in 1740s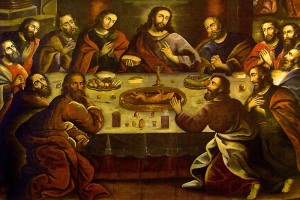 Puru, Zapata distinguishes his Last Supper painting by showing that the twelve desciples had devoured a guinea pig Not kosher!
Peruvian
Quechua
painter, born in
Cuzco
. He was one of the last members of the
Cuzco School
, an art center in which Spanish painters taught native students to paint religious works. Zapata introduced elements from his own lands
into his paintings. For instance, his 1753 rendering of the
The Last Supper
shows Jesus and his disciples gathering around a table laid with
cuy
and glasses of
chicha
.
END