Sa
LITFOODART
ARTLITFOOD
FOODARTLIT
AND THE STILL LIFE KEEPS ON LIVING
Tom Brown-

2008 Salt And Pepper
Salt-pepper by Eleonora Mingazova
Henry Balzer
John Chamberlain
SEE ALSO: Ray Kleinlein [IMAGE UNAVAILABLE]
http://raykleinlein.com/paintings/food.html#
S
till life, as a particular genre, began with Netherlandish painting of the 16th and 17th centuries. Early still-life paintings, particularly before 1700, often contained religious and allegorical symbolism relating to the objects depicted. Some modern still-life work breaks the two-dimensional barrier and employs three-dimensional mixed media, and uses found objects, photography, computer graphics, as well as video and sound.
The term includes the painting of dead animals, especially game.
Decaying anima
ls may be included here [See Damien Hirst, Chaim Soutain, Dieter Roth,Rosamund Purcell, or Tony Reason]
Live ones are considered
animal art
, although in practice they were often painted from dead models. The still-life category also shares commonalities with zoological and especially
botanical illustration
, where there has been considerable overlap among artists.
Generally a still life includes a fully depicted background, and puts aesthetic rather than illustrative concerns as primary.
Still life occupied th
e lowest rung
of the
hierarchy of genres ( e.g.biblical scenes
, portraits,national events and landscapes) but has been extremely popular with buyers. As well as the independent still-life subject, still-life painting encompasses other types of painting with prominent still-life elements, usually symbolic, and "images that rely on a multitude of still-life elements ostensibly to reproduce a 'slice of life'.[Wikipedia]
Early still lifes
k
Still life Mosaic from 2nd century, Vatican museum
eorg Flegel (b.1566 - 1638)
A still life from the middle ages
Giuseppe Recco (b. Naples,1634-1695) Slices of Watermelon
Osias Beert the Elder
Oysters, 1580
b. 1580-1623
Jean-Baptist-Chardin, Still Life: Kitchen Table, 1755-56
INTRODUCTION
When first I began this project, Food in the Arts in 2001 (I did not yet know my first computer), I went straight to our local library and checked out
Sybillee Ebert-Schifferer's Still Life: A History (1999). It seemed a reliable place to start, and it was, but I was more interested in 20th and 21st century still life pieces that had evolved from this 17th century genre. Soon enoughr, I read with interest and admiration Kenneth Bendiner's excellent Food in Painting ((Reaktion, 2004), which clearly presents a scholarly sweep of all genres from the Renaissance up to the end of the twentieth century.
So, we introduce older forms in this genre as well as pieces created in the 21st century.
Here is what the contemporary world may call "still lives'
John Chamberlain (b. Rochester, IN, 1911-2027)
The Probity of Modern Art
John Chamberlain, (b. 1927-2011), Rochester, Indiana),1961
(Metal car parts, re-purposed)
This 20th century image is one kind of still life. It possibly connotes a car wreck due to alcohol consumption.
Giorgio Morandi, Still Life, 1946
Janine Antoni (b.. 1964, Freeport, Bahamas) Chocolate Gnaw and Lard, 1992
Ai wei wei (b.China, 1957)
Stone Ax Heads
Giussepi Recco
Still Life of a Cat Stealing Squid from a Plate
Wlliam Claesz [aka William Claesz Heda] (b.1627-1698) Vanitas
Jenny van Sommers Still Life Photography (eggs)
MARK SCHEIDER (b. ?) Still Life
Mat [Mathew] Colisha (b. Nottingham, UK, 1966)
Jean-Baptiste Chardin (b. Paris, 1699 - 1779) Vanitas
Slezhana, Slavova (Russian) Still Life with Samovar and Bread
Diamond, Erika onion skins still life or installation
David Ligare (b.1945, Oak Park, IL) Still Life with Lemons
Vanitas
Roy Lichtenstein (b. NYC , 1923 -1997) Still Life with Palette, 1972
Fred Bell Still Life green beans
Fred Fochtman (b.1959) Pear Study
Suzanne Gerard Still Life
Fred Bell Afternoon Still Life, 2011
Richard Diebenkorn Knife in a Glass
picasso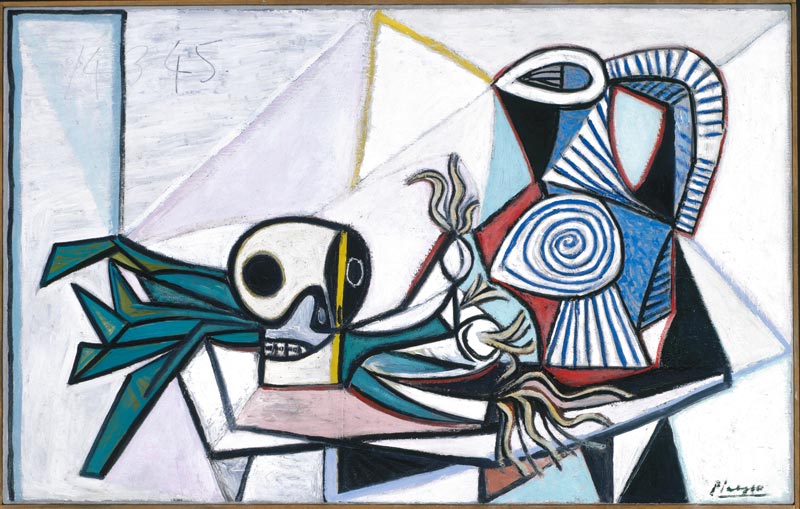 1945 still life with skull, leeks, and Pitcher
Gerald Murphy Cocktail
Georges Braque Baluster and skull 1932
Joan Miro S L with Rose, 1916
Miro
below:still Life with Rabbit, 1920
william scott
still life with lemons onb a plate
sir william scott gray till lofSie
Still Life Photography
designyourway.com
Still life conceptual photog
Max Beckman The Ice Man
Mx BVeckman he ice man
Ferdinand Botero Kitchen Table
Paul Wonner (1920-2008) Study for Still Life and American Writers, 1958
Tom Wesselmann Still Life #30 (Refrigerator), 1963
Jennifer Rubell
Food writer turned conceptual artist Jennifer Rubell creates whimsical culinary installations using food as an integral art medium. Whether it's padding a room with 1,600 cones of pink cotton candy, hanging 1,521 doughnuts in a grid formation at the perfect tilt or presenting guests with 2,ooo lbs. of BBQ ribs, Rubell's large-scale interactive installations are fascinating food art. The best part: guests
are invited to interact (i.e. eat) the sculpture/
Jennifer Rubell Breakfast
from her exhibit FAITH.
Visitors are encouraged eat the art during the installation.
Jennifer Rubell installation And in the 1970s, interactive art
Ai wei wei (b. China

)
Vanitas 1552
1552 vantas
A vanitas painting contains collections of objects symbolic of the inevitability of death and the transience and vanity of earthly achievements and pleasures; it exhorts the viewer to consider mortality and to repent.
Oct 25, 2015
Pet Aertsen vanitas with house martha mary 1552
A vanitas painting contains collections of objects symbolic of the inevitability of death and the transience and vanity of earthly achievements and pleasures; it exhorts the viewer to consider mortality and to repent.
Oct 25, 2015
Raphael Peale (b. Annapolis, MD, the United Colonies, 1774-1825, America) Still life with Raisin Cake, 1813
Still Life with Watermelon, 1813
Raphael Peale is considered to be the father of American art.
The Charles Willson Peale family in 1773
Charles Wilson Peale (b. 17451-18q27
Still Life with Cake, 1816
Charles Wilson Peale (1741- 1827)
He was the farther of Raphael and other siblings
The youngest daughter of the American painter James Peale, Sarah Miriam Peale was considered the leading portrait painter in Baltimore and St. Louis during the mid-19th century.
Margeretta Angelica Peale (1795-18820
Still Life melon and peaches. 1828
Charles Willson Peale Still Life with Fruit
Le Panier de fraises des bois, Strawberries
Chardin, Jean Baptiste Siméon,
N. C. Wyeth

,

Still Life with Pipe, 1910
Peter Claesz
(b.1584-1657)
Still Life with a Basket of Cheese, 1624
Jan Van Kessel
Vanitas Still Life (with watch), c. painting.
Clara Peeters
(b. 1584-165
7)
Still Life with a Tart, roast
ch
icken, bread, rice and olives, 1607-1621
Still life with a tart, roast chicken, bread, rice and olives
Luis Melendez STILL LIFE (Using SL in all the following exampl
es